Posted in
Uncategorized
|
No Comments »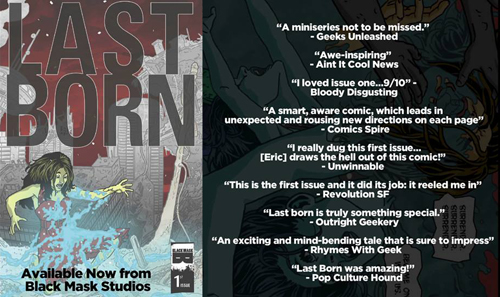 Last Born #1 arrived in stores on October 1st and the reaction we've been getting has been pretty good. For those that couldn't find a copy in stores, you can purchase a digital version here.
Patrick and I did a handful of interviews recently and there have been a lot of reviews for Last Born #1 floating around the internet. So I've posted everything below.
INTERVIEWS
Bloody Disgusting
Seqart
Bleeding Cool
Graphic Policy
REVIEWS
Bloody Disgusting
We The Nerdy
Outright Geekery
Comics Bastards
Geeks Unleashed
Comic Vine
Rhymes With Geek
Comics The Gathering
Aint It Cool
The Spire
Comicsverse
ComicsFrontline
The Cult Den
Last Born #2 will be in stores next week so I'll have a preview up soon.