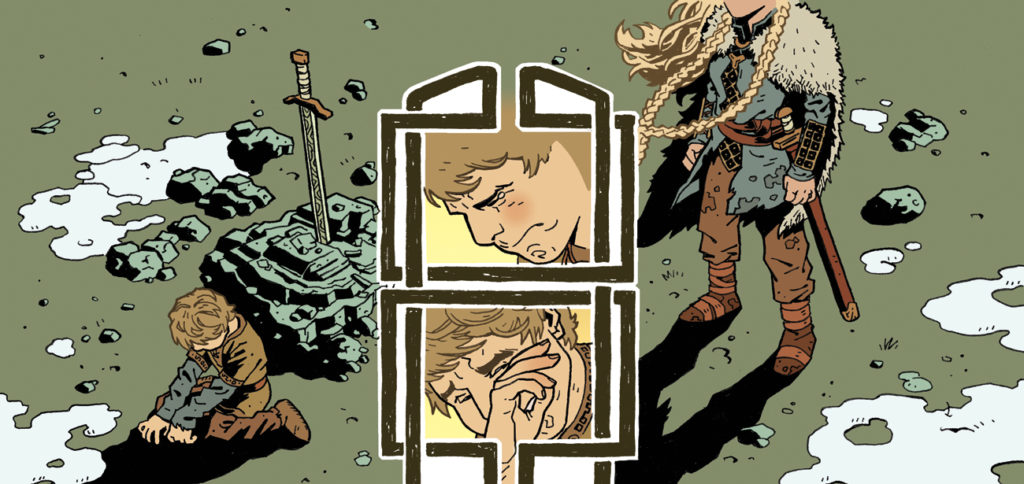 Eternal is out today!
I've been surprised by all the positive feedback it's garnered from my peers. It's been truly heartening.
This project started as a 24 pager that my pal, Ryan Lindsay, wrote with me in mind to draw. At the time that I received it, I was a little depressed about what I perceived as the failure of all my other indy work. So my goal with this book was to forget about pitching, conventional page counts, standard page sizes, what a publisher would want to see ect. ect. I just wanted to create a cool comic.
I also wanted to see this script like an auteur film director would and rewrite it a little. I wanted to identify a theme, add some ideas and really put my stamp on it.. I wanted the story to be a true collaboration between artist and writer. Because books like that excite me.
I added a recurring scene throughout the book, I changed scenes, expanded moments, experimented with pacing, threw out captions on several pages, and in one case I threw out two pages and created 5 pages in it's place that I created from scratch. And throughout all of this Ryan was shockingly accommodating. (although, that shouldn't have been that shocking considering how generous a collaborator he's always been)
He was far too kind about the changes I made. And to my shock, he managed to convince Black Mask to publish it. But that's another thing that shouldn't have surprised me. Black Mask has a long history of publishing things no other publisher would touch with a ten foot pole.
Also, I have to mention Dee Cunniffe, because I feel like I cut some corners on a lot of pages due to time constraints. But I knew I could get away with it because Dee was there to fix things with his usual magic. Most of what people feel when they're reading the book is due to his control of colour.
We've also been getting a lot of very kind reviews.  Here's a sampling of what has been said:
"There is a sublime balance to Eternal that permeates each page. It's a balance of stillness and kinetics, of blindness and clarity, and of the past and the future. Eternal loves to linger, to haunt, even as it propels itself wildly towards the inescapable inevitability."
Alex Mansfield
All-Comic
"Eternal is primal. It comes at you head-on, swings hard, and lays you flat."
Jarrod Jones
Doom Rocket
"…Eternal provides nuance, depth and emotion to what is a fairly played-out genre, resulting in what is about as flawless a comic as you could ever hope to read."
Craig Neilson-Adams
Big Comic Page
"Eternal is a powerful story about leadership and finding balance within. It's a very engaging read that takes the reader on a journey through the life of a Viking. You feel the crisp air of the village, the clang of swords on shields, the heavy breathing in the midst of battle."
Lorenzon Simpson
Black Nerd Problems
"Eternal uses these jaw-dropping action sequences to build up Vif as a character before tearing her down in a gut-wrenching moment. I let out an audible gasp while reading it."
James Ferguson
Comicon
"Eteral is a rare and special book—…the kind of book that only happens when a creative team's vision and execution are truly unified; the kind of book that beats the breathe out of your chest and fills your heart at the same time."
Frank Gogol
Outright Geekery
Also Dee, Ryan and I  were recently interviewed about the book with Chris Campbell at Comicosity.